PrimaDonna and Marie Jo launch limited editions in honor of 100 years of Van de Velde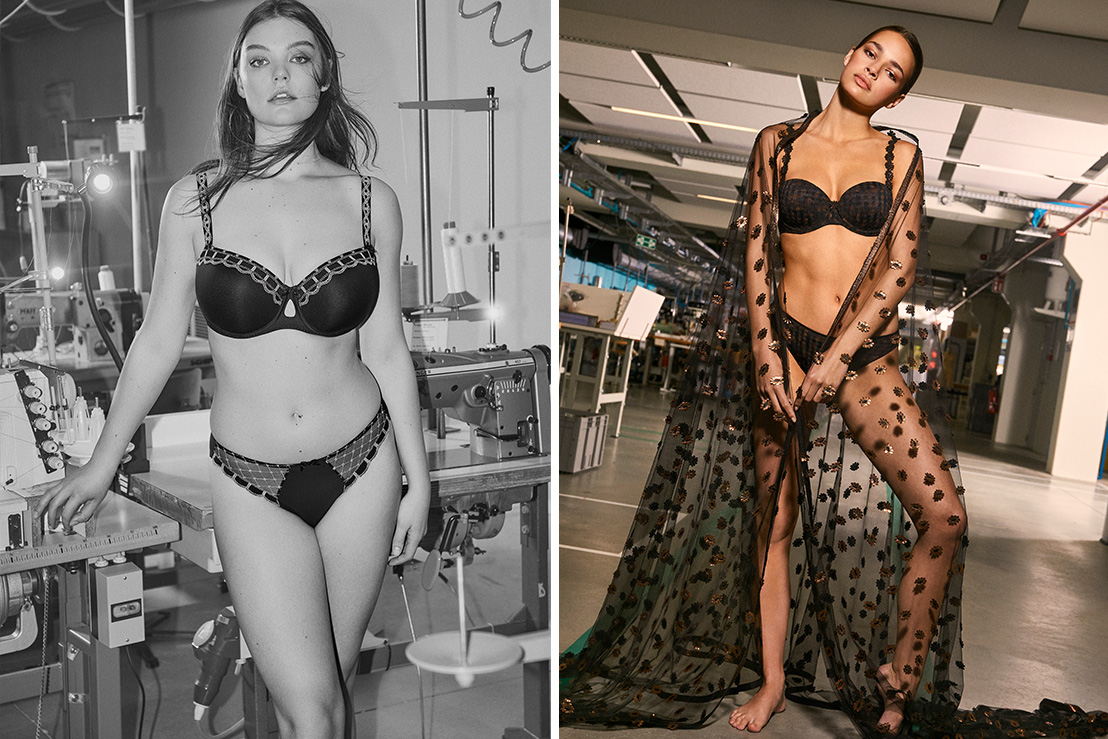 Deauville and A la folie — the two style icons of lingerie labels PrimaDonna and PrimaDonna Twist — will be produced as special editions in honor of Van de Velde's centenary. Marie Jo is celebrating its hundred-year milestone with a unique and stunning version of its iconic Avero. From their studio in Schellebelle, the lingerie group has been designing the most beautiful lingerie with the very best fit for a hundred years.
Celebrating 100 years of lingerie with... lingerie!
Lingerie that fits perfectly and looks good can really boost your self-confidence. Van de Velde, the Belgian lingerie group behind PrimaDonna, Marie Jo, and Andres Sarda, has been making this its specialty for a century. To celebrate this centenary, PrimaDonna is launching two super-deluxe party editions of lingerie icons Deauville and A la folie.
 Marie Jo revolutionized the lingerie world in 1981 by offering women beauty and comfort combined, and is now releasing a glamorous new version of the iconic Avero bra to mark this special anniversary.
PrimaDonna Deauville: The favorite of millions of women worldwide
A legendary fit and perfect support for larger cup sizes combined with a feminine look with fine embroidery: It is for good reason that Deauville is the all-time favorite of millions of women worldwide. This lingerie series has been in the collection for fifteen years and has been produced in more than 30 colors. To celebrate the centenary of its parent company in style, PrimaDonna's Deauville is now appearing in a special limited edition with statement embroidery and chic glossy accents. The stunning eye-catcher that really steals the show is the Deauville corset with three-piece cups, to be worn as a luxurious top or as flattering shapewear!
"If you have a larger cup size, Deauville really is the perfect bra for every day. Running to catch your bus, chasing after your kids, making a confident impression during a meeting, or feeling alluring on a date: You can count on Deauville to give you the best support and a comfortable feeling, anytime and anywhere." - Kelly Dunmore, Training Manager at the Van de Velde Academy
PrimaDonna Twist A la folie: a nod to vintage corsetry
A la folie — the very first style icon of PrimaDonna Twist — has been given a makeover for the occasion. You could call this lingerie series the younger sister of Deauville; with her flattering, retro look and excellent fit, A la folie has gained many loyal fans. The celebratory edition is a clear nod to that other PrimaDonna icon, Deauville, with embroidery in timeless black and a vintage skin tone.
"The name A la folie comes from a popular French nursery rhyme. It's a rhyme to recite when you are in love, while picking the petals off a daisy: je t'aime un peu (I love you a little), beaucoup (a lot), à la folie (madly)... Madly in love: the perfect name for the very first icon of PrimaDonna Twist." - Carole Lambert, PrimaDonna Brand Design Manager
Marie Jo Avero: a glamorous makeover
The instantly-recognizable check fabric of Marie Jo's daisy bra is being given a glamorous makeover to mark the occasion by means of a bronze floral print. The iconic Avero daisy shoulder straps have been given a warm, bronze, glittery tint to mark the centenary of the Belgian lingerie house.
"I still describe the design and development of Avero as one of my favorite experiments ever. [...] The designers in the team combined a swimwear fabric, purchased at a trade fair, with floral embroidery as an experiment. The result was amazing. I don't think there's ever been a bra on the market that's become more loved and popular than Avero."" ​ - Karel Van de Velde, Former Creative Director
It was 23 years ago that Marie Jo brought the iconic Avero onto the market. Over the years, the daisy-decorated bra has been released in more than 45 colors. Every season, this iconic product appears in a trend color as well as its basic colors. Blue Bijou is the most popular color in the product's history. Van de Velde is celebrating 100 years with a treat for fans of Marie Jo's Avero: a unique limited edition of the iconic daisy bra.
 In addition, the Belgian label is bringing a corset onto the market with the same glamorous Avero looks: with a bronze floral print and the daisy shoulder straps in a bronze glitter tone.
Available exclusively from high-quality lingerie boutiques from November 11
Curious about the celebratory limited editions of Deauville, A la folie, and Avero? Make a beeline for your nearest lingerie boutique from November 11 to be among the first to try them on. Find your nearest lingerie shop at primadonna.com at mariejo.com
Go to our PrimaDonna media gallery for more images.
Go to our Marie Jo media gallery for more images.